Full Licence Holder Courses now available - Please see courses for more information.
Welcome
Hello. My name is Karen Bannister and I am a fully qualified Government Approved driving instructor with over 15 years experience, and provide intensive and semi-intensive driving courses as well as individual driving lessons using the unique LD System of driving tuition. I normally cover any of the locations listed plus the surrounding areas. Why not contact me now for a FREE home visit?
I am also a registered Driving Standards Agency (DVSA) driving instructor tutor, and work with the LDC training team to provide first class coaching for trainee and newly qualified instructors. If you are interested in a rewarding new career as a driving instructor, find out what LDC can offer you.
I hold the Pearson SRF BTEC Level 4 Professional Award in Coaching for Driver Development. This means that you receive my training using modern client-centred techniques to help you develop into a safe, confident and self-reliant driver who takes an active role in their learning. Compared to "one-size-fits-all" traditional fault-based instruction, my methods and the LD System will enable you to achieve rapid development towards your driving goals using your preferred style in a supportive environment.
If you are looking for a driving instructor who can help you specifically deal with those frustrating test nerves which have held you back in the past, I am a fully qualified clinical hypnotherapist and stress manager. Maybe you are a qualified driver, yet feeling held back from the freedom driving can bring because of fears or phobias? As a member of the National Council for Hypnotherapy (NCH), I adhere to their strict Code of Ethics and Conduct to give you peace of mind and a fully professional service.

Why learn with me
I have been specially trained by LDC in the use of the incredible LD System and the latest student-centred learning techniques. This combined with my caring, friendly personality will help to ensure you learn to drive
quickly,
at a pace to best suit your needs and,
in such a way that you will look forward to and enjoy every lesson.
If you need to get started straight away you can
Alternatively, if you just want to find out more about me and what I can offer please read on.

Driving courses and driving lesson packages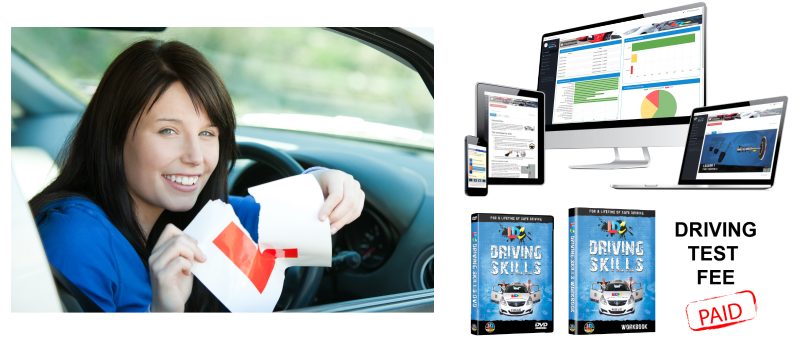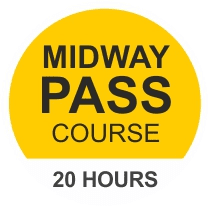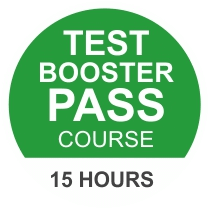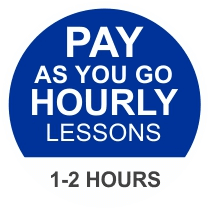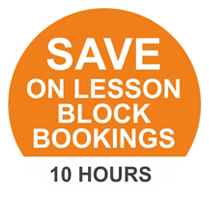 I can provide a range of courses with a driving test booked at the end to suit your needs. Each one of the driving courses shown above include
access to my LDC online students learning hub (see below),
the LDC driving skills DVD/workbook and
the provision of a driving test within the price.
Together we book the driving test and then plan a schedule of driving lessons leading up to that date.
Alternatively, I can also offer you "pay as you go" driving lessons. The choice is yours.

About the LD System I use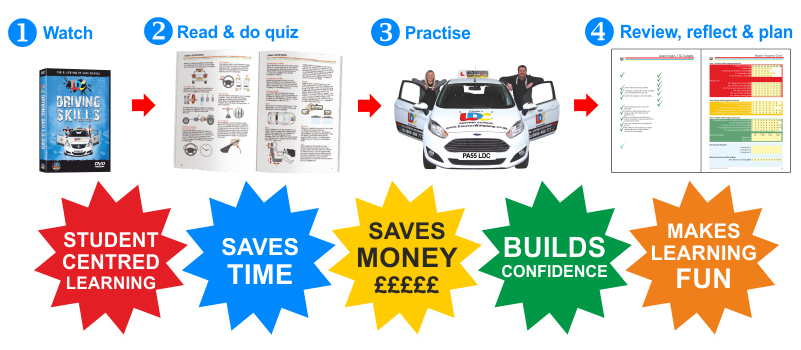 Pass quicker for less with the incredible LD System. Watch and study how to perform each driving task before your next driving lesson and/or watch it afterwards to remind you of what you have learnt. Save time and money on unnecessary explanations in car. Make more rapid progress and see your confidence grow as you mark off each of the targets in your LDC workbook and/or online. Nothing is left to chance and you know exactly where you are in the process at anytime. You can see for yourself when you are ready for the test, what you have covered and what remains outstanding.

Make your first driving test your last and
equip yourself for a lifetime of safe driving

My LDC online students learning hub
The LD system is also available online through multiple devices via my LDC online students learning hub - shown below: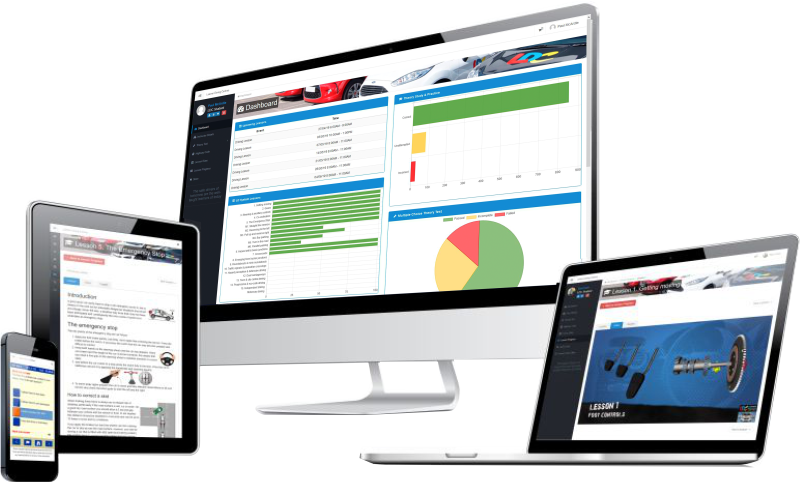 All my students have access to my LDC online students learning hub available through this website. This allows you to prepare for your Theory and Hazard Perception test as well as giving you access to the online version of the LD system. In this way I can monitor your progress and help you through your Theory Test preparation as well as your preparation for the driving test.

About my business and LDC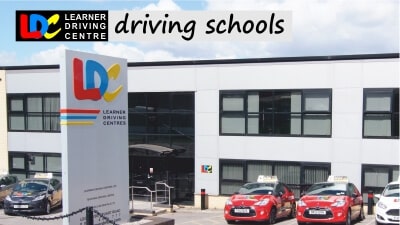 My LDC driving school business is operated under franchise from the Learner Driving Centre which has been helping driving instructors to provide quality driver training services for over 30 years. Being an LDC driving school instructor means I have undergone specialist training in the use of the unique LD System, student-centred learning and customer care. It also means I am governed by LDC's stringent customer care and tuition standards. You need only look at my Terms and Conditions to see how serious I am in providing a truly professional service of the highest quality to my customers.
Whether you are choosing driving lessons for yourself or for a member of your family, it's vital that you make the right choice.

The safe drivers of tomorrow
are the well-taught learners of today

So if you are interested in taking driving lessons or an intensive driving crash course with a patient, friendly driving instructor in the following postcode areas: S3, S6, S7, S8, S10, S11, S12, S13, S17, S18 or S19 please don't hesitate to contact me.