Alfie Hall - Nether Edge
Passed Second Time
Karen is a patient and helpful teacher who gave me lots of confidence, especially in helping me to think about things in advance, and staying focused. I moved to Karen after having been already learning to drive for a while elsewhere and failing my test. She helped me to be fully prepared for my next test, which I passed!
Elsie Chadwick - Kelham Island
Confident Driver Course
I got in touch with Karen as I was recently insured on my partner's car, but realised I was very nervous about getting back on the road again after not driving since my test 8 years ago. Karen has helped me to gain confidence when driving around Sheffield, and has also helped me to change the way I think about potential problems when I'm out on the roads. Now I look forward to driving rather than overthinking each detail of the journey before setting off. I feel like a much safer driver after this Course, and would recommend Karen to anyone looking for a much-needed confidence boost!
Helen McGinley - Hunters Bar
Confident Driver Course
I started Karen's Confident Driver Course after years of not driving and feeling anxious about getting back behind the wheel. I had built up a lot of fear and panic about driving, having only really driven while learning. I found it embarrassing that I couldn't drive and wanted to try and get past the anxiety. Karen is a great instructor, very calm and reassuring. I now feel totally different to when I started, ready to get onto the roads and keep improving. The sessions feel very tailored to what you need. Karen is great at blending the way you learn with what you need help with. This enabled me to work out why I felt so anxious and how to get past that, and focus more on the road. I'd highly recommend Karen to anyone who needs some help feeling confident and comfortable on the road. Thanks so much!
Ian Matthews - Hillsborough
Confident Driver Course
Thank you Karen. Having not driven in 8 years, I was nervous about coming back to driving and in particular, tackling Sheffield's hills. Over the Course you have helped me overcome my fears and added skills which will be extremely useful for years to come.
Ben Johnson
Confident Driver Course
In helping me re-establish my confidence with driving, Karen's been fantastic. The sessions are tailored and thoughtful, with care to get to the root of why something might be proving difficult. The theme of linking a feature of the driving back to an area of more confidence was consistent, insightful and ultimately very effective. I can't recommend the Confident Driver Course enough to anyone nervous about getting back behind the wheel after a long time away from it.
Katie - Woodseats
Confident Driver Course
After living in London and recently moving to Sheffield, Katie had concerns about dealing with other drivers, particularly when feeling she was holding them up. She had tried to drive with a family member supporting her from the passenger seat, but this proved unhelpful and stressful for both of them. By the end of her Course, she realised that she already had the resources to help her manage her unhelpful thoughts and feelings, and enjoyed a drive into the Peak District. Well done Katie!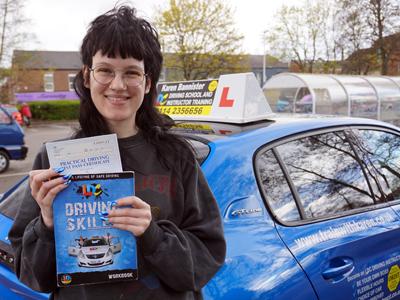 Lucy Whelan - Kelham Island
Passed First Time
After initially starting to learn to drive at 18, and giving up due to University and a scary instructor, Karen made me realise driving doesn't have to be terrifying! Being a safe driver is of the utmost importance and I can honestly say Karen has helped me achieve that - I wouldn't have passed without her!! If you're a nervous person, look no further - Karen is the best in the business.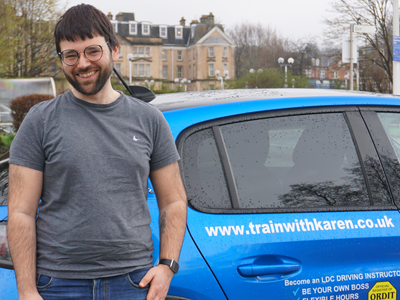 Charlie Solomon Walkley Bank
Confident Driver Course
I did the Confident Driver Course with Karen, and found it incredibly helpful. Prior to the Course, I tried to avoid driving and felt anxious at the idea. It really helped me improve my skills, and I feel much happier and more confident to get started driving again. Thank you Karen.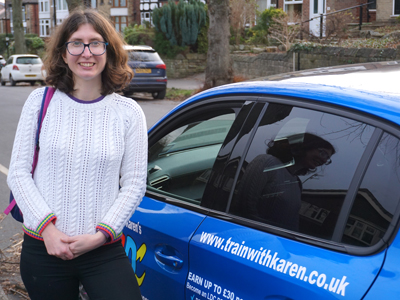 Nicola Robinson Nether Edge
Confident Driver Course
Congratulations to Nicola, who recently moved to Sheffield from Scotland for a new job. She needed to refresh her driving skills and knowledge to get used to her new work locations across the city. She enjoyed being able to drive her parents to the Peak District when they came from Scotland to stay for a few days, and her little dog is now looking forward to being driven to new places for walks too.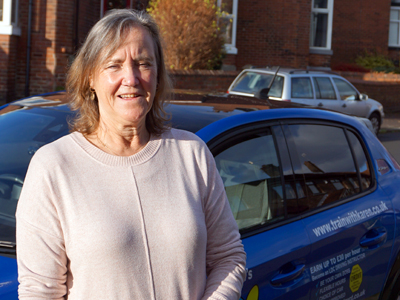 Gillian Stagg Woodseats
Confident Driver Course
Well done to Gillian for completing her Course! She felt she had gained more confidence to take on some parts of the longer journeys to visit her family without having to rely as much on her husband to do all the driving.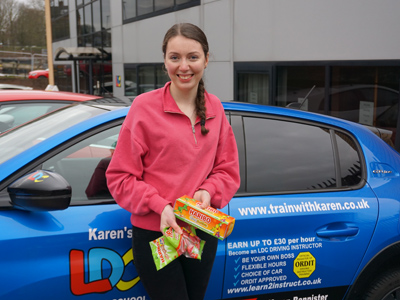 Ailsa Bartley - Hope Valley
Motorway Half Day
Ailsa's Mum contacted me during the summer, concerned that Ailsa needed to have more experience in city driving rather than lessons to just pass her test in their rural location. They drove to Sheffield to have the extra lessons with me and Mum always appreciated my constructive feedback! The pressure was on before she started University, requiring her journeys to include 2 hour trips on unfamiliar roads, often at night and in all weather. She took her test in November and passed with flying colours. Mum was now keen to book Ailsa in for my Half Day Motorway session. She has done really well, and I am confident she will continue to develop into a safe responsible driver after demonstrating skillful and considerate driving on all kinds of roads. This picture shows Ailsa at the LDC Head Office in Pontefract - we could not leave without a visit to the famous Haribo factory shop!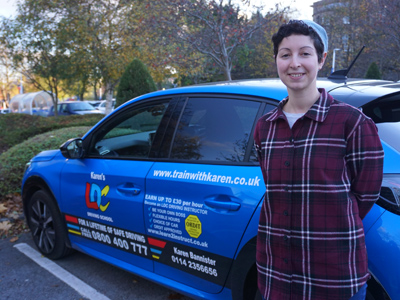 Rachel Parker - Crookes
Confident Driver Course
Thank you Karen - you've helped me gain more confidence behind the wheel after I went 10 years without driving. Your calm and reassuring manner was incredibly helpful throughout the course, and I feel like I'm well on my way to getting my independence back!
Hannah Freeman - Ecclesall
Confident Driver Course
I contacted Karen for a set of refresher lessons, having recently moved to Sheffield. I passed my test in 2007, but never felt I'd become a "confident driver". After leaving home for university, I had driven very infrequently. Over the last decade driving had become something I felt anxious and embarrassed about. Karen met me at home to discuss my goals and shaped our sessions around them. Most of my experience was on rural and village roads so adjusting to city driving with frequent junctions, more pedestrians and busier routes was a priority. It was also a goal for me to become more confident driving on hills. During the lessons we spent time mastering junctions on different roads in my area – busy/quiet/different directions/gradients/lights. Karen was patient and reassuring, asking how much support I would like for each route/manoeuvre and tailoring her input. We stopped frequently to reflect on the journey which I found particularly useful – as I tended to think I'd made more mistakes or poor judgements than I had. I also appreciated Karen finding different ways of explaining things to me – using my interests to illustrate points and recommending online tools to refresh my knowledge. After the four sessions I feel I have re-learned the foundations of driving and am more confident overall. I have a much better grip of my skills and what I need to practice. Thanks Karen!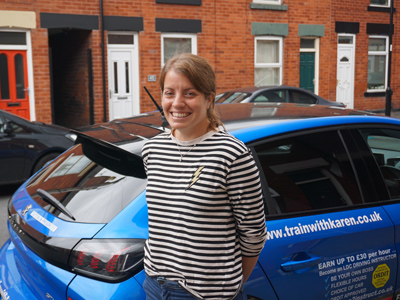 Rachel Grice - Abbeydale
Confident Driver Course
I started the Confident Driver Course with Karen with very little driving experience and zero conviction behind the wheel. She provided me with some literature that covered practical matters, as well as a book designed to inspire confidence and a mindful approach, which provided early reassurance. Karen was a pragmatic and calm instructor with an intuitive approach from the very first lesson, allowing me to tailor the course to fit my personal needs and expectations, without pressure to "tick boxes" or perform. She would suggest little breaks at appropriate times, to get a breath of fresh air, reflect on the journey thus far, or—as was sometimes necessary—share a humorous anecdote to ease stress. I would never have dreamt that I would now think nothing of jumping in my car and setting off somewhere, and I owe much of this progress to Karen, how she helped to reframe the very concept of driving, and her practical advice and guidance whilst on the road. I have been driving a fair bit, for work and outdoor trips (I really enjoy it!) I would wholly recommend Karen to anybody seeking driving instruction or support, and cannot thank her enough.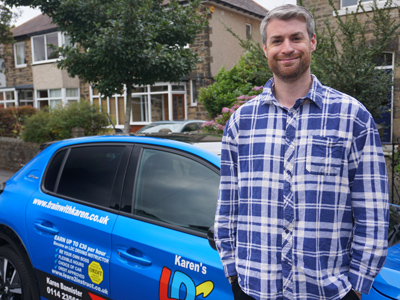 Jack Aizlewood - Broomhill
Confident Driver Course
The Confident Driver course provided by Karen, improved my confidence when driving hugely, having not driven for a substantial period of time. I found the specific attention to my needs particularly helpful, and Karen tailored the lessons to my driving requirements. The resources provided prior to the first session refreshed and updated my knowledge of the Highway Code and road safety requirements. Moreover, Karen directed me to useful resources based on development points from our lessons. From a fairly rudimentary starting point this course enabled me to feel confident in driving my own car, and facing a variety of challenging circumstances calmly and independently. I cannot thank Karen enough, and would strongly encourage anyone looking to improve or update their driving skills to take this course.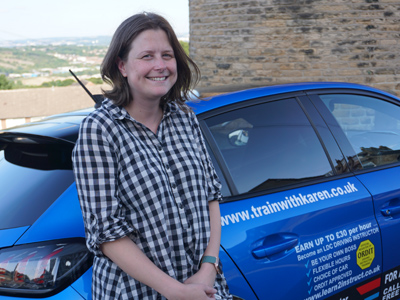 Helen Crofts - Crookes
Confident Driver Course
I first passed my driving test in 2015. I drove for a while but during my pregnancy I found it very difficult and eventually stopped driving. A couple of years later I found myself avoiding driving completely. I don't know how it happened but I found it difficult to even think about driving again. Just the thought of it made me so nervous I'd feel sick. Eventually I decided I needed to do something about it. My partner found Karen's website and shared a link to the testimonial page with me. Karen offered exactly what I was looking for. We contacted her and I was placed on a waiting list. Before I even got into a car with Karen she came to meet me for a chat, to introduce herself and establish what my needs were. Her calm manner made me feel relaxed with her straight away. During the sessions we worked on building my confidence behind the wheel and would regularly reflect on things that had happened during the drive. My sessions with Karen really helped me think about driving in a different way and I'm now confidently driving myself to work every day. I would highly recommend this course to anyone who finds themselves anxious about returning to driving.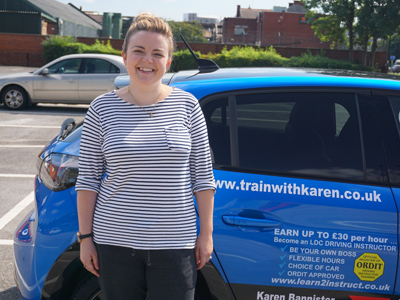 Jess Atkins - Kelham Island
Confident Driver Course
I originally passed my test 4.5 years ago after taking an intensive 2 week driving course and hadn't driven since. Wanting to gain my independence and overcome my nerves, I contacted Karen for a refresher driving course as I liked that she was qualified in hypnotherapy and stress management and felt this would complement the driving lessons. Karen took the time to find out my learning style and tailored each lesson to what my personal goals were with becoming a confident driver. Having had an instructor before who had quite an aggressive teaching style, it was a joy to be taught by Karen who always remained calm and thoughtful with her approach (even when I was inevitably making mistakes!). I'm now driving my husband in and around Sheffield after a decade of him doing all the driving. Thank you Karen!
Marion Adams - Nether Edge
Confident Driver Course
I passed my driving test about 50 years ago and drove regularly, although I never enjoyed it, and was always glad to arrive at my destination. After I retired I drove less and less, and not at all during the last two years after I gave up my own car. I had never driven my husband's car, and was too nervous to try. But after my husband became ill I realised I had to be in a position to take over if necessary. A Course with Karen in a dual-controlled car gave me the confidence to do so, and she also gave me some valuable tips to improve my driving. My reversing is much better now I know to keep the (Peugeot) lion upright! I'm amazed it never dawned on me in all these years. I've driven to Chatsworth Xmas Fair and to Clumber Park as well as various supermarkets on my own, so I know I could manage now. Thank you Karen.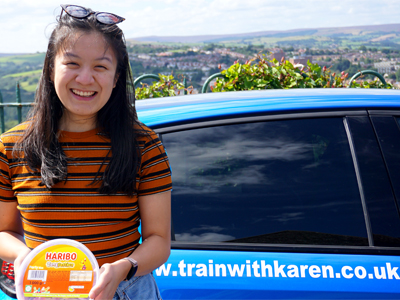 Sarah Wong Crookes
Confident Driver Plus Course
Having not driven in 7/8 years I was nervous to get back to driving, especially in Sheffield with all the hills and roundabouts. Taking your course was a brilliant way to ease me back into driving, have the right mindset for it and feel confident on the road again! The motorway day was definitely the most useful session - I would never have got on a motorway by myself and it was so useful to have you walking me through the steps and being a general calming presence ☺️ I would (and have!) recommended you to friends wanting to learn or get back into driving - thanks to your lessons, I've had the confidence to drive by myself in Sheffield - something I was terrified of only a few months ago! Thanks again for all your help.
Zoe M
Confident Driver Course
Taking a refresher course with Karen really reduced my anxiety as a driver who had passed their test ten years ago and hadn't been in a car since. I learned so much both in terms of how the roads have changed since I did my lessons the first time round, as well as about myself and how my own emotions can influence my driving. After completing the course, I feel much more able to practice driving on my own in a safe and reflective way. I would definitely recommend Karen's calm and non-judgemental approach to any driver - new, or in need of refreshing, nervous or confident and just wanting to become a better driver. Many thanks!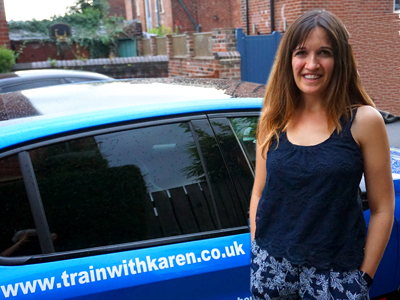 Natasha McKeever Nether Edge
Confident Driver Course
I was very happy with the confident driver course. I found you to be exactly what I needed as a very nervous driver - calm, kind, and good at explaining things. Although by the end of the course I didn't feel confident enough to drive on my own, this was more because of where I was when I started rather than because there was anything wrong with the course, and I did feel a lot more confident than when I started. Thanks and all the best.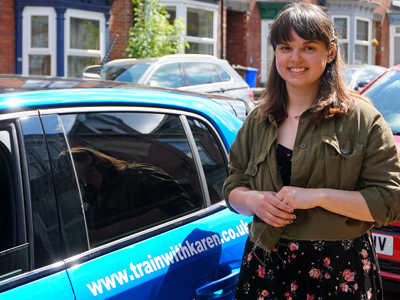 Emma Ryan Ecclesall
Confident Driver Course
I have now got a car, and all seems to be going ok so far, I have braved the big roundabouts by Waitrose and the University with no issues several times now which was something I worried about! I think the course was really useful - I'd definitely recommend it, I was a bit nervous having not driven in so long and never in a city before and I just felt like I needed a bit of reminding and a bit of a confidence boost before getting back on the road on my own and the course was perfect for that. The pack was a good reminder of the various road signs etc which I just hadn't needed to think about when I'd not been driving for 2 years. Not sure I'd have changed anything!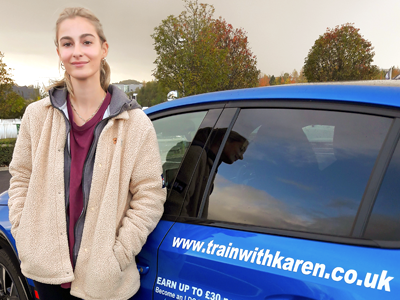 Yasmin Coverdale
Confident Driver Plus Course
Yasmin booked this course to help her gain confidence and valuable experience driving on motorways, as she planned to work for her family business. She enjoyed driving to the LDC head office at Pontefract and visiting the famous Haribo factory shop before returning to Sheffield to drive her new car.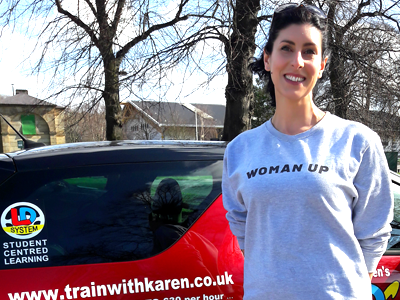 Katie Durrant - Hillsborough
Confident Driver Course
Katie passed her test in Norwich 15 years ago, and now had young children to accompany her in the car – a daunting prospect for her! The course enabled her to discover new strategies to help her manage distractions. She found the journey to the supermarket really beneficial, as this was another thing she wanted to work on. Well done Katie on completing your course.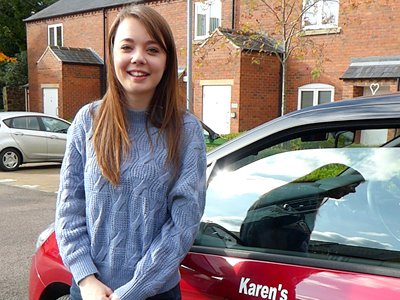 Catherine Anderson - Malin Bridge
Confident Driver Course
Catherine had never driven alone since passing her test when she was 18, and now wanted to share the driving with her partner. She enlisted my help for driving her own car to the Peak District to enjoy walking and visiting relatives.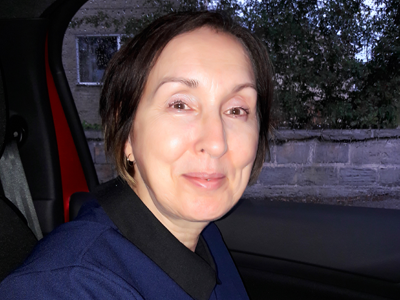 Yvonne Allsopp - Waterthorpe
Confident Driver Course
Congratulations for successfully completing your Course, Yvonne. I hope you found it helped towards the independence you wished for with hobbies and family commitments.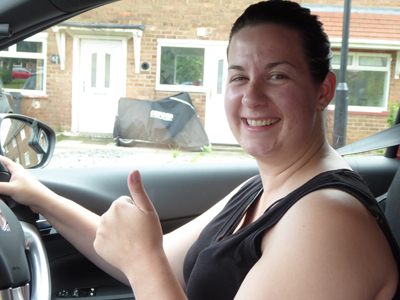 Leanne Eggenton - Lowedges
Confident Driver Course
Thank you for giving me my confidence back. Your calming manner helped me deal with any mistakes I may make calmly. I'm now driving myself and my daughter around whenever needed without fear. Thank you x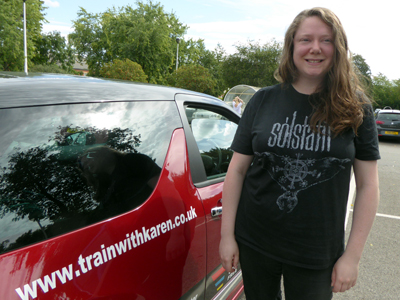 Kate Major - Kelham Island
Confident Driver Course
Your Course worked miracles for my confidence with driving. I still have days where I doubt myself, and I'm prone to overthinking, especially before journeys which I know will trigger my anxiety. But I don't let it stop me any more! I've driven to Northumberland, Lake District and Yorkshire Dales since my Course (including some pretty awful weather conditions!) and it's continuing to get easier each time I do it. I truly believe that working with you enabled me to reframe some of my anxiety towards driving, and continue to move forwards. I would recommend you to any nervous driver, without a shadow of doubt. I found that you not only helped me understand myself better as a driver, but also to start understanding myself and my own anxiety and sensitivity more. This has enabled me to interact and take control of my feelings far more readily, and rationalise some of the irrational driving anxiety. I believe you have a wonderful ability to understand people and help them, and will always be grateful to you for the time we spent together. It's an ongoing process, but getting in the car doesn't fill me with quite so much dread any more. And in February on the anniversary of passing my test, I finally took the P plates off my car – so that must be progress!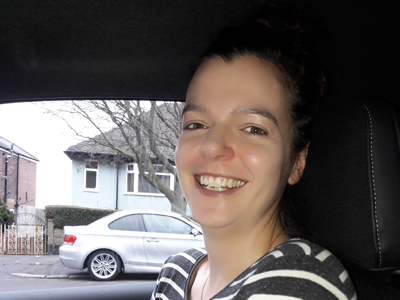 Alex Thomson - Walkley
Confident Driver Plus Course
I found the transition from passing my driving test to being out on the roads alone really daunting, and quickly lost confidence in myself. I decided to have some extra lessons, ending in a motorway lesson, to help me. Karen was very patient and calm right from the start. She focused on my goals and what I wanted out of each lesson to build the Course around me. She explained things very clearly and simply. I couldn't have imagined driving on a motorway when I had my first lesson, but I did it! I am now feeling much more confident in myself and my driving ability thanks to Karen. I have felt a huge improvement over the weeks. I would highly recommend Karen as a teacher.
Jane Adams - Bradway
Confident Driver Course
Driving has been a real challenge for me over the years. I passed my test in 2010 and then avoided getting into a car like it was the plague. For the past few years, I've tried to build confidence with driving, but have really struggled to drive independently. I also had a bad experience taking refresher lessons with a previous instructor. I was nervous about trying again, but after 4 lessons with Karen, I feel completely different and so much more optimistic. I have driven on my own every day this week, and I plan to increase my distances and challenge myself further. It's for me to do that now, but Karen has equipped me and facilitated this. I don't know how she did what I thought was an impossible task, but I think I actually quite like driving now! Thank you, Karen.
Laura - Greystones
Confident Driver Course
Driving with Karen was a genuine pleasure. Having not driven for over 10 years, I was very nervous to get back out onto the road, particularly with a toddler in the car. Karen was so friendly and calm, that even after my first lesson I felt so much better! Having completed my Course with Karen, I have gained the confidence I needed to get back out on the road, even test-driving cars without serious panic. Thanks again Karen for your help and support, it really has made such a difference.
Esta Lewis Ecclesall
Confident Driver Course
It's 45 years since I passed my driving test, and 45 years of being too nervous to drive on motorways. I contacted Karen who really encouraged me with her calm and reassuring manner to begin my motorway journey. She took the time to understand the issues that I perceived caused my anxiety. I took 2 extended lessons using my own car so that I could build up my confidence in a practical way by driving on the motorway. I can't say I enjoy driving on the motorways, but it's thanks to Karen that I am now able to do this for at least 100 miles with skill and confidence.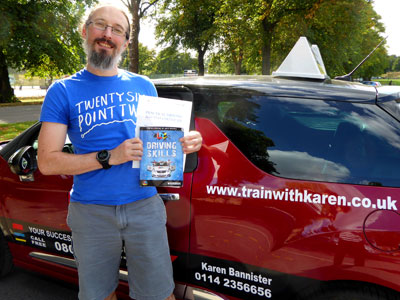 Kelly Dorset - Hillsborough
I restarted my journey to passing with Karen after two failures a long time ago. The LDC method, along with Karen's adaptive and patient approach, meant I progressed quickly as I rediscovered driving skills long forgotten, and improved them to bring them up to scratch for modern driving challenges. Looking back, I feel like she has coached me beyond the test standard and prepared me for a safe, comfortable and enjoyable driving future.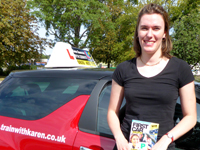 Sophia - Sheffield Hallam
Passed First Time
I chose Karen because I wanted a calm, professional instructor who would teach me to be a safe, life-long driver. She is all this and more! In lessons she really explains all aspects of driving and makes sure you understand so that you can drive with confidence. Her number one priority is ensuring your safety on the road. I always felt safe and calm. Thank you Karen.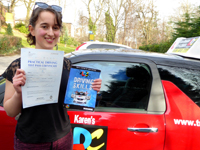 Megan Holmes - Broomhill
After I failed my first driving test with a previous instructor, I lost all my confidence. I was scared of getting back in the driving seat. Karen has completely changed my attitude towards driving. I now look forward to getting in the car. She never shouts, judges you or makes you feel uncomfortable. You can always trust her to make sure you are safe and guide you in the right direction – towards passing! I have very much enjoyed having Karen as my instructor, and now I have passed will look forward to seeking her help with motorway driving.
Jack Scourfield Woodseats
Confident Driver Course
Thanks again for your help, it really was very useful - I went on a couple of drives with my parents whilst at home for Christmas and I was much more calm and confident than I would've been otherwise (I've previously turned down similar trips due to my fear of getting behind the wheel). I had passed my test around 10 years ago, but had not driven at all in at least five or six years - partly due to lack of need, but largely due to a nerve-wracking lack of confidence. The four session refresher course with Karen has improved my outlook immeasurably - not only do I feel much more comfortable sat in the driving seat, but I actually now look forward to going out driving, which is a feeling I would never have imagined myself having prior to taking the refresher course. Thank you Karen for a very measured, considerate and friendly approach to instructing, your help is greatly appreciated!
Louise Holmes Sheffield 11
Refresher Course
Thanks so much for helping me get back into driving! After not driving for around 3 years, the thought of getting behind the wheel made me so nervous, but the 4 lessons I've had with you have completely changed that, and I'd never had imagined I'd feel so comfortable driving. Your patience and calmness were fab and your (very knowledgeable) explanations for things I'd previously been overthinking or doing wrong have been invaluable. Thanks so much for all your help. I've been driving round happily since the last lesson!!!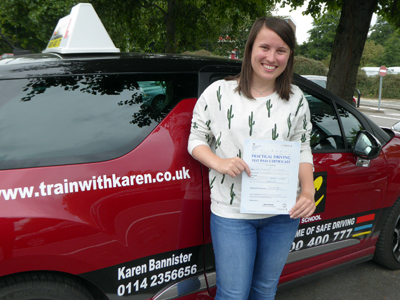 Becky Hargreaves
Passed second time
I would highly recommend Karen's LDC driving school. She has endless patience and helps you to remain calm when driving. I found the LDC DVDs and book she provides really helpful, especially when reflecting on your previous lessons and setting targets for yourself moving forward. My other driving instructors in Sheffield were nowhere near as good as Karen.
Neil - Ecclesall
Refresher Course for Confidence
I needed to refresh my driving skills, having taken a break from driving. Karen's teaching style is collaborative and very thoughtful. She took the time to discuss exactly what I needed to achieve and gave objective feedback. I would be confident in seeking Karen's professional advice and instruction in the future, and happily recommend her.
Anonymous Lady
Refresher Course for Confidence
I left writing to you until after I'd driven to Wales. I managed 8 motorways and miles of country lanes and even managed to park the estate car in parking spaces. 590 miles in all. Many thanks for your help. The refresher lessons were helpful in building my confidence but the motorway lesson was vital. I learned a lot - judging speed and distance was the most important and although I'm obviously still learning I'm beginning to feel less anxious and relaxed. I could hear you telling me to relax my hands on the steering wheel and that helped. My next challenge is driving to and from Stratford upon Avon in June followed by the north west of Scotland. I might even end up enjoying driving!!! Your calm assurance and positive encouragement was really helpful. Also your flexible response to my concerns about the motorway lesson which meant I felt more relaxed and confident about having a go. I would like my comments to be anonymous. Many thanks again and best wishes.
I just wanted to update you on the two journeys I was concerned about. One was to Stratford-Upon-Avon, the other to Scotland. I can't say I enjoyed the motorway drive to Stratford but I did it. I'm just back from my week in Scotland and I achieved 1,209 miles of various roads from motorways to single track Scottish roads including the hairpins of Bealch Na Ba. I'm now quite proud of my achievement. I might not surrender the car keys when the time comes!! Many thanks again for your support in helping me achieve this.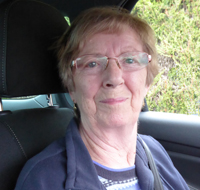 Lyn L.
Refresher Course for Confidence
Being 79 and not driven for a few years, I decided to have a refresher course. My instructor Karen of LDC really helped to give me back my confidence. Thank you Karen.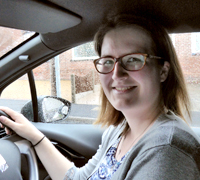 Roz - Hillsborough
Refresher Course for Confidence
Karen was a very calm and neutral instructor. She has really helped me overcome my fear of driving after not getting in a car for nearly 2 years. I would highly recommend her for anyone who needs a confidence boost so they can get back on the road. As a young Mum, it's held me back not being able to drive, so regaining my confidence means I feel ready to take the next step in our own car and take my little boy out for the day.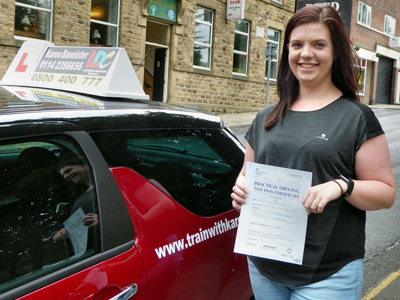 Zoe Cox - Bramall Lane
Passed Second Time
Karen's approach really helped me to relax and feel comfortable driving after a bad experience with a previous instructor. She really listens to what you're struggling with, and focuses on "how could it have been done better?" rather than "what you did wrong". The LDC System with the workbook and DVDs helped me to improve my skills, particularly my manoeuvres, so lessons could then be spent on improving rather than learning from scratch. If you're at all nervous about learning to drive or getting back behind the wheel, I highly recommend contacting Karen!
Anonymous lady - Sheffield City Centre
Refresher Course for Confidence
I decided to have some refresher lessons after 4 years since passing my test in Bridlington and having little or no busy road experience. After the first lesson, I felt like I was learning to drive from scratch again, but Karen broke each session down into achievable goals. The following lessons were very useful and insightful, and Karen is very calm and patient. I now feel comfortable to go out onto the roads myself. I couldn't have done this without her!
Louise Coldwell - Fulwood
Refresher Course for Nervous Driver
After many years of not driving due to nerves, I found myself in a position of having to drive to regain my independence. Karen has been patient and kind and given me back my confidence and more. I am now looking forward to my new found freedom in my new car, enabling me to get to the shops, start a new social life, and in the long term hopefully holidays in this country.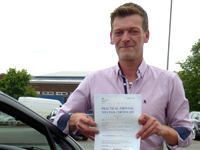 Billy Sims - Sharrowvale
Passed first time
When I first thought about learning to drive I was looking for a one week intensive course to just get my test passed and over with. I had already taken and passed my theory test. After looking round and round the internet and many phone calls I found that although you can take a one week driving course, you could not book a practical test in Sheffield for six weeks. That's where Karen came in. I contacted Karen with no prior knowledge and got a good gut feeling for her over the phone. She visited me at my home and I was very impressed with how calm and organised she was. I duly booked my practical test for six weeks and booked my ten lessons with Karen to end on the day of my test. From the first lesson I knew I had made the right choice of instructor. She took me logically through all aspects of driving, I never felt under pressure and always confident, she knew how to take me one step at a time teaching me and reassuring me as she went. I purchased the book and DVD from Karen and was able to spend time in-between lessons working my way through it. On the day of my test Karen was with me in the car as I took my test, knowing she was there with me helped a great deal. I am pleased to say I passed on my first attempt. I could not recommend Karen highly enough if you're looking for a driving instructor.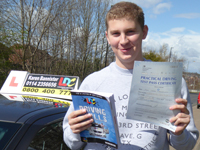 Alex Charlesworth - Norton Lees
Passed First Time
Congratulations to Alex, who looked stunned when his examiner told him he had passed – and with only 5 driving faults. He was particularly pleased because he was the first of his group of friends to pass, and always seemed to prefer his driving lessons to revising for exams! Well done, and safe driving always, Alex.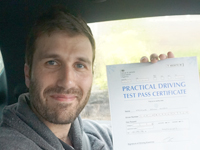 Spencer Swain - Greystones
Passed First Time
When I first started driving, I found the task arduous and stressful. I realised that I was in need of a teacher who would understand the complexities of how my mind and way of doing things work. Karen represented that person. Her teaching techniques allowed me to flourish and her calm, reassuring nature allowed me to discover a new side to driving. This manifested itself in a way that got me to understand driving as an interpretive task, rather than a rigid science.
Liz S. - Totley
Refresher Course for Confidence
I researched a number of driving schools on line and was attracted to Karen's due to the mixture of coaching and therapy skills she offered. I had not driven for several years as I did not feel I had the confidence to go out and about. However, since having a baby, I realised that not driving would limit the things I would be able to do. Therefore I decided to take refresher lessons to gain more confidence on the road. Since taking the lessons, I feel a lot better about driving in general, and feel I can cope with situations by being more prepared. Karen is a friendly, calm and patient instructor who has really helped me develop my driving skills and build up my self-esteem.
Cat. W - Millhouses
Refresher Course for Confidence
It was very useful to be able to get back into a car after a long time of not driving since passing my test with Karen there for guidance. Now I can start looking for a car of my own!
Becky Saunders
Refresher Course for Confidence
After passing my driving test 7 years ago, I had very little experience of driving and felt I needed some refresher driving lessons to build my confidence, gain experience and develop skills in driving in built-up areas. I contacted Karen via her website and she called me within a day to arrange a time to discuss my needs and driving goals. This was an extremely useful chance to get to know each other and to outline what I wanted to achieve from my lessons. Karen made me feel very at ease, and helped me outline clear goals and objectives. During my lessons, we focused on what I wanted to work on, and I always felt safe and like I was making progress.
Karen always gave clear and direct instruction, and there was always time for a reflective conversation once a skill had been practiced, or if a mistake was made. My experience of learning to drive again with Karen was extremely positive. She is calm, kind and encouraging. I was anxious about driving again, but my lessons have given me the skills and knowledge I needed to go on and gain experience in my own car. Thank you, Karen!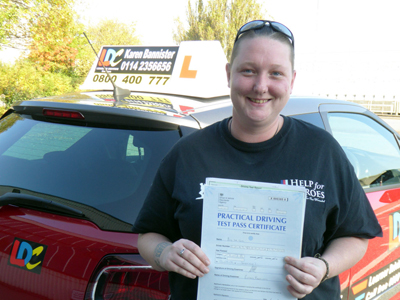 Tor Cox
Passed first time
I have found the whole experience of learning to drive with Karen and LDC to be amazing. I was a complete novice, but succeeded with the help of all the LDC materials (both the workbook and the dvds) that work hand in hand to help with the overall driving to give you an idea of what to expect on a lesson. Towards the test day I also found a lot of LDC on Youtube, and the LDC website showed a lot more about the actual final test and what to expect which I found useful. But my BIGGEST thanks go out to Karen who is so patient and encouraging and I wouldn't have passed today without her at all so.... thank you Karen for everything .
Cathy Pawling
Refresher Course for Nervous Driver
I wanted to undertake a course of "refresher" lessons to get back into driving after a break of 8 years. I was very nervous about getting back behind the wheel again after such a long break from driving, but Karen has been great at making the whole experience seem achievable and less daunting than I feared! She has been very calm, patient and reassuring. She tailors each lesson to ensure that you learn at the right pace and at the level you need. I would highly recommend her to anyone who is considering learning to drive (or "re-learning" again after a break like me!) I now feel much more confident again behind the wheel, and feel that I am gaining back a lot of independence.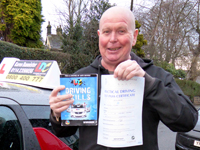 Trevor Clark - Hillsborough
Passed first time
Being taught to drive by Karen has been for me a life changing experience. She has encouraged me every step of the way. Before contacting Karen in November 2013 I had never considered taking lessons before, but after pushing a lot of self doubt to one side i took the plunge . The LDC method for training drivers was I feel a huge factor in me passing first time. Karen has shown me the correct way to drive and I would encourage anyone if they are considering taking driving lessons to take them with Karen, her guidance has been an inspiration. Many thanks Karen, we did it, what a great team.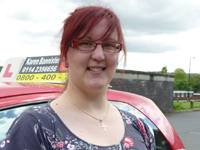 Kate Lynn - Hillsborough
Passed 2nd Time
I would recommend Karen as an instructor to anyone, but especially if you're at all nervous about learning to drive. She is endlessly patient and reassuring. Without a doubt, her soothing attitude is the reason that I have passed my test today! She has become my Guardian Angel of driving! I look forward to the independence that being able to drive will give me. I could not have done it without Karen's help. Thank you, Karen!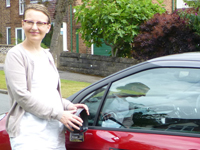 Hilary F - Ecclesall
Refresher Lessons
I'm very happy to recommend Karen's LDC Driving School in Sheffield to new and returning motorists alike. Having learnt in an Austin Metro, passed my test in a Ford Fiesta and then practised in big cities and built-up areas, driving had been hard work, difficult and fraught with dangers.
Karen really knows the best way to help motorists at every stage of life learn or re-learn to drive. Thanks to her clear and common sense explanations combined with a patient and supportive approach, driving becomes easy, little effort and a lot less complicated. Whether you've been in a car for 5 minutes or 5 years, there's always new and unforeseen situations that can make motoring a challenge on our busy roads. By training with Karen, you'll be more than well-prepared.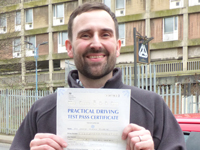 Dave Gubbins - Walkley
Passed second time
A huge thank you Karen for your commitment and patience. As an older driver with family commitments, it was important to me to be flexible. Karen's coaching style really worked for me. Although at times this stretched me, it made the learning experience my own. I now feel confident to drive in all scenarios. I am at the start of my driving journey now, and I feel equipped to deal with this, not just passing my test.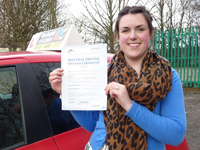 Deborah (Debs) Sinclair - Dronfield
Passed First Time
After some previous driving experience left my confidence low, Karen and the LDC System built me back up so I was able to pass first time. Karen's calm, patient, yet no-nonsense approach enabled me to focus and overcome my fears. Having the workbook, DVDs and written notes after each lesson was very effective in helping me cement what I'd learnt, and are useful reference tools which I'm sure I will still go back to now I've passed. Thank you for helping me feel confident and safe on the road. I am now very much looking forward to the freedom driving brings and a life free of buses!
Georgina Rogers - Ecclesall
I was recommended to use Karen as an instructor by my sister and can gladly say she is a fantastic instructor. When I was learning with Karen, she had a very positive, caring attitude. I used the LDC workbook and DVDs which were extremely helpful. It helped me personally because I could watch someone else demonstrate how to carry out the activity. It also helped me while I was doing private practice in my own car. Although I did not pass the first time, Karen kept my attitudes and skills high and went over what went wrong on the test. Karen's car is very easy and a pleasure to drive. One last thing I would like to say is thank you so much for teaching me!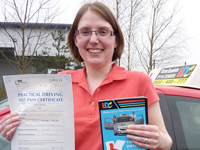 Lucie Lines - Dronfield
After learning to drive for over 10 years and failing 9 tests with other instructors, I chose Karen. I felt she was very supportive throughout my entire learning process, and was understanding to my past events. She gave me encouragement and belief in myself that I can drive. I thought the methods and techniques that Karen used enabled me to understand what was expected of me during each lesson. I would definitely recommend Karen to my family and friends due to her way of working and lovely personality. My success will enable me to have my own independence, and allow me to search for employment further afield."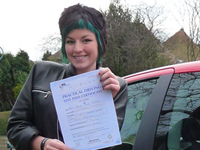 Abbey Rogers - Ecclesall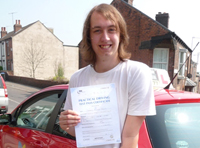 Josh Green - Hillsborough
Semi Intensive Course - Passed First Time
"I passed first time on an LDC semi-intensive course. The calm environment created in the car was very helpful when learning and this made the whole process much easier and more enjoyable. Everything was explained clearly and in detail; Karen's endless patience is amazing!
The LDC workbook goes through everything in great detail, and will probably be useful to me for years to come. The DVD was incredibly useful to show you exactly what to do, and is immensely helpful with the timing. Manoeuvres have never been more fun, set up as a challenge to conquer them one by one."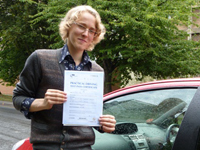 Kai Green - Fulwood
Midway Pass Course - Passed First Time
"Driving with Karen was an utter delight. She was patient and encouraging throughout. She guided me through the LDC System carefully and enthusiastically, and the training materials and structured approach were perfect in explaining what to tackle and when. Karen's feedback at the end of each lesson was always clear and useful, and made the 'intensive' element of the Course hugely less 'intense!' I would definitely recommend LDC and the Midway Pass Course."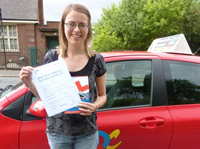 Kate Wilkins - Ecclesall
Passed Second Time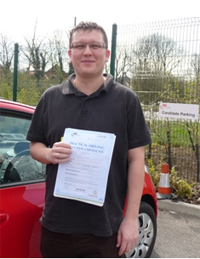 Gregg Creaser - Abbeydale
Passed first time
"Throughout my learning experience, I was put at ease and felt comfortable working with Karen. During my lessons, I felt that the learning/teaching pace was ideally suited to how I learn, and found Karen's calm and patient approach helped me progress through the key learning areas, both practical and theoretical.
Overall I have enjoyed learning to drive with Karen, and now I have passed on my first try, look forward to put my learning into practice."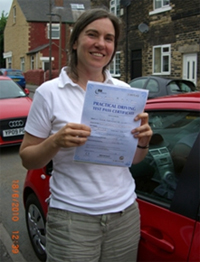 Janna Doherty - Hillsborough
LDC Semi Intensive Course - Passed first time
"I had done a fair amount of driving some years ago but never took a test. To be honest, I never imagined actually being a fully-fledged driver. But now I have a young child, I really need to be driving. I liked the look of the LDC Semi Intensive Course with the workbook and DVDs. I also liked the sound of Karen after speaking to her on the phone. I found the course hard, but had a lot of private practice to bring me "up to speed"!
Karen has been a great instructor, very perceptive and offering many more skills besides basic driving instruction, enabling me to overcome my driving anxieties. And despite my bus being in a collision on my way to the test, I passed first time! I am over the moon!! Thank you Karen!"
Lauren Owen - Woodseats
Passed second time
"I would like to take this opportunity to thank you for your patience and lessons over the last 22 months. Many thanks."
Stephen Bramall - Walkley
LDC One Week Pass Course - Passed third time
Well done, Stephen! All those hills in Sheffield were no problem to you (much easier than Worksop)!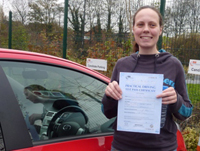 Emma Griffiths - Handsworth
Passed first time
"Karen has a confident, calming influence which made the lessons with the LDC workbook and DVDs structured and easy to understand. Karen also provided me with some hypnotherapy before my test which made me feel less anxious. The result gave me a pass first time!!"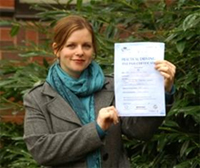 Helen Fauset - Greystones
Passed second time
"When I started having driving lessons I was quite a nervous learner and didn't believe I'd ever get there. I then had to take time out from learning for a while when life got in the way, and when I got back behind the wheel my confidence was at an all-time low. But Karen's patient, empathetic approach combined with the LDC support materials soon had me making progress again, and with great delight I passed my test in November 2008. Now that I'm on the road I'm really looking forward to building on what I've learned and enjoying the freedom of being able to drive safely with confidence.
Karen's patience, determination and support have in no small way contributed to my recent success! Thanks for everything - see you soon for Pass Plus!"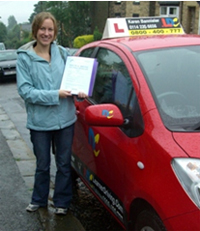 Helen Luckman - Crookes
LDC Semi Intensive Course - Passed first time
"Thank you so much, for helping me pass my driving test first time following my LDC Semi-intensive course. Your patience and encouragement these last couple of months have been great, so thanks again and best wishes."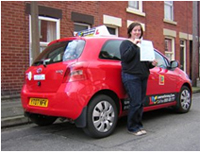 Anna Hawkins - Abbeydale
Passed second time
Although Anna's nerves got the better of her on her first test, she used the LDC workbook to focus more on her actual driving ability. Her second test involved driving through snow and ice on the way to the test centre, only to be told it had been cancelled. Never mind, great experience to drive in adverse weather conditions! 3 weeks later, she overcame the nerves and passed, giving her more flexibility with family trips and improved career prospects. Congratulations, Anna!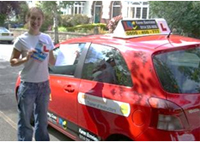 Ruth Taylor - Ecclesall
LDC Midway Pass Course - Passed first time
Ruth had not driven for two years after failing two previous tests with other instructors. She returned home to Sheffield between University studies and enjoyed the challenge of preparing for her driving test during the summer. Well done, Ruth!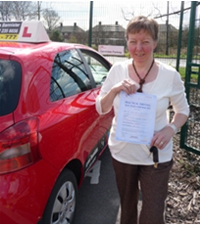 Joan Sutcliffe - Bradway
Passed first time
"Two years ago I was persuaded to learn to drive because of the many advantages it would bring. After spending some time finding a really good school learn with I booked some lessons and with some trepidation attended the first of many. The first few lessons were getting to grips with the 'basics' which included getting the car to move forward. This I did - at speeds ranging from 5 - 7 mph (terrifying speed for a beginner!) Week by week, month by month, my skills increased and improved along with confidence. The learning process was enjoyable, challenging, frustrating at times, and rewarding. I eventually took the theory test and later the practical test, passing both equally well and of course was delighted with these achievements. All the effort and work paid off, not just from my side of the process, but also that of my instructor Karen, whose total commitment and patience is unsurpassed. The experience has been one of life's very best and that is because I have been taught to drive, not just to 'pass a test', and I can confidently say that I know and understand the difference. Being at the age of 51-53, learning to drive takes a bit longer than at the age of 21-23 but time taken to learn properly, whatever the age, is a far greater gain than just a few lessons to 'get through a test'. Experience is gained with time spent learning, and I would not have wanted to learn any other way. What I have learned is not just the 'mechanics' and what to 'do', but to have just enough confidence (not being over confident) and at the same time an awareness that every time I am 'out on the road' I will continue to learn. This is what only the very best driving instruction and instructor can achieve. I got the best.
HALL OF FAME
Congratulations to the following successful drivers:
Abbey Rogers - Ecclesall
Lucy Anderson - Ecclesall
Tim Swift - Ridgeway
David Brooks - Crookes
Andreas Udlebacher - Switzerland
Ben Warren - Norton Lees
Emily West - Ecclesall
Jenny Hardy - Walkley
Ben Rayner - Greystones
Isabel Frost - Fulwood
Hwan Cui - University
Dan Brennan - Barlborough
Alket Hoxha - Manor
Laura Bennett - Crookes
Gavin Bradwell - Ecclesall
Graham Bonner - Walkley
Rene Dorset - Meersbrook
Sue Skelley - Dore
Rob Lockett - Ecclesall
Natalie Turner - Sharrow
Caroline Absalom - Nether Edge
Ruth Block - Dore
Dita Sardjono - Nether Edge
Sarah Gray - Totley
Brian Marsden - Intake
Rob Lockett - Ecclesall
Natalie Wells - Base Green
Natalie Wagstaffe - Base Green
Adam Stannard - Norfolk Park
Ian Kershaw - Dronfield
David Hurst - Dronfield
Phil Button - Stocksbridge
Louise Paddock - Beauchief
Chris "Kit" Barker - Broomhall
Deborah Rigby - Ecclesall
Alison Fyldes - Ecclesall
Caroline Willgoose - Sothall
Maddie Bland - Millhouses
Mandy Hector - Beighton
Lindsay Gore - Ecclesall
Simon Rees - University
Sophie Liljendahl - Ecclesall